BATTLEBOTS is back and it's more brutal than ever! With a bevy of new bots built for mayhem, the series' second season kicked off with a bang. Here's what you need to know (SPOILERS AHEAD):
Disk O'Inferno vs. Chomp
Disk O'Inferno bobbed and weaved around Chomp for the duration of this bout due to a malfunction of its primary weapon. Chomp struggled to land a hit on its smaller, more agile opponent. Meanwhile, Disk O'Inferno took advantage of the larger, unbalanced bot by continually ramming its opponent, tipping Chomp onto its side. Both bots survive the round, but Chomp is declared winner by a split decision.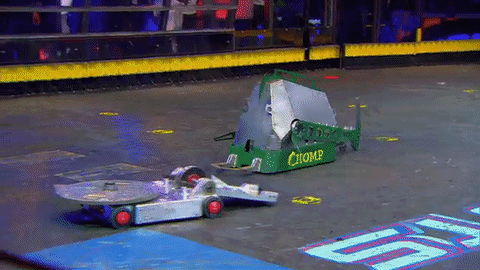 Hypershock vs. Ultraviolent
Ultraviolent was the aggressor, but the bot quickly cooled off after receiving a few critical hits from Hypershock. Ultraviolent attempted to dodge further damage with some clever maneuvering but was quickly overcome. Hypershock threw Ultraviolent into the screws, then gutted the bot in the center of the arena. Hypershock is the victor.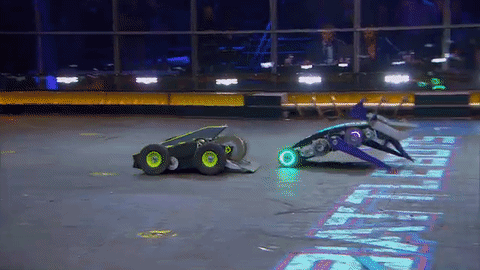 Complete Control vs. Bombshell
Complete Control took control, delivering a stunning suplex in the opening seconds. Bombshell would recover only to receive another suplex. Meanwhile, Complete Control managed to dodge Bombshell's flame-throwing drone, which eventually crashed into the rails. To finish the match, Complete Control grappled with Bombshell, lifting its opponent into the air and torching it with its flame thrower. Bombshell would not recover and Complete Control is declared the winner.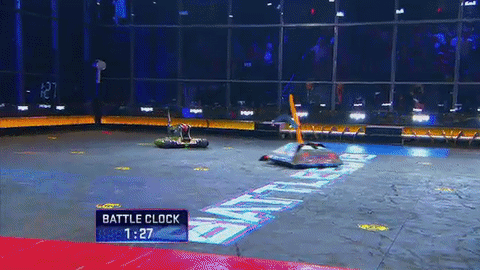 Obwalden Overlord vs. Warhead
Armed with blade and shield, OB Overlord attempted to fend off the dragon-esque Warhead, but was quickly overcome by its opponent's flames. OB Overloard would lose mobility and succumb to its wounds after Warhead forced the bot onto its back. Warhead wins.
ADDITIONAL MATCH-UPS:
Bite Force vs. Mohawk
Last season's Battlebot champ returned with a vengeance, quickly dashing the hopes of Mohawk. Bite Force wins.
Chrome Fly vs. Bucktooth Burl
Both bots are critically damaged, but Chrome Fly is awarded the victory.
Splatter vs. Warrior Clan
Warrior Clan's low-profile build and deadly spinner deals major damage. Warrior Clan wins.
Stinger vs. Nightmare
This thunderous match-up of two Battlebox titans ended in flames, but when the smoke cleared, Stinger was declared victor.
BATTLEBOTS Season 2 continues Wednesdays 9p only on Science Channel.